The Last Event for 150th Celebrations – Time Capsule, Appelt Lane, Reimann Manufacturing Sculpture & Afternoon Tea – 20th Nov 2022
You are invited to mark the end of the
Eudunda 150th Celebrations.
Sunday 20th November 2022
2pm start
Eudunda Town Gardens
Afternoon Tea Provided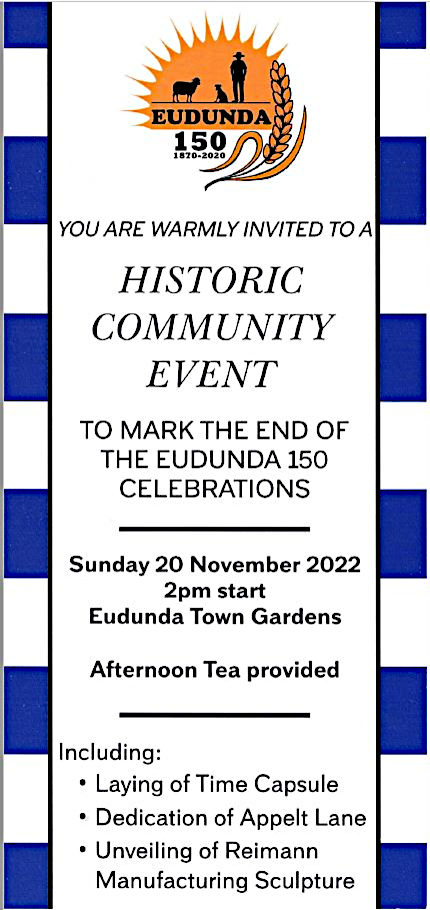 > LAYING OF TIME CAPSULE
> DEDICATION OF APPELT LANE
> UNVEILING OF REIMANN MANUFACTURING SCULPTURE
A NOTE ON THE TIME CAPSULE
If you would like to put a letter, or small momento, in the capsule, you can promptly post it to:
Secretary of Eudunda 150 Committee
PO Box 85
Eudunda, SA, 5374
Letters must be received before the day.
The capsule will be opened in 2070 to mark Eudunda 200th anniversary.
Thank you to those who have already sent in stories!
We Hope YOU – Our Community Get Involved, To Tell Our Stories to be buried in the time capsule and unearthed for a future generation in the year 2070.
You can find details on our website, www.eudunda150.com
#eudunda150 #eudunda #timecapsule