The Burra Wheelbarrow Push – 1st Oct 2023 – Registrations Open.
Marking the 40th Anniversary of the original event, in 2023 the event is abridged – replicating the first leg of the event, between Terowie and Burra.

A great opportunity for local solos, pairs, or teams to show how fit & tough you are.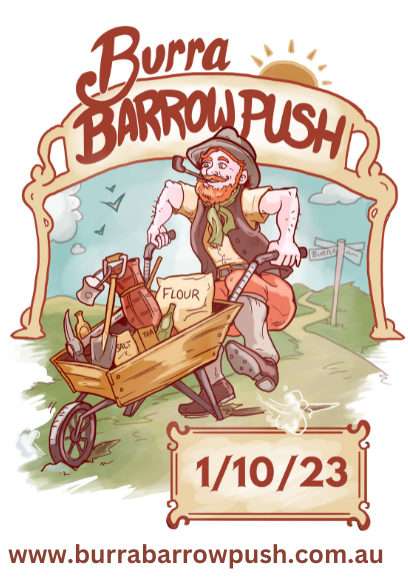 'Burra Barrow Push' barrels ahead
Registrations for the 2023 Burra Barrow Push are now open!
in 1942, General Douglas MacArthur, while in Terowie, declared, "I came out of Bataan, and I shall return!" Now, in 2023, Terowie will bear witness to another promised return – THE BURRA BARROW PUSH!
In 1983, to commemorate the Centenary of the founding of Broken Hill, the councils of Broken Hill and Burra decided to host an historic race event – The Burra to Broken Hill Centenary Barrow Push.
Earlier this year, the Regional Council fo Goyder – in partnership with AGL – revealed that plans were underway to revive the event in 2023.
We are excited to advise that an event date has been set – Sunday, October 1st, 2023 – and we are seeking expressions of interest from paricipants who'd like to take up the challenge.
The wheelbarrows are ready and raring to go, all they need is a 'push' in the right direction.
The route will take entrants and their wheelbarrows from Terowies's Main Street to Burra's Market Square, around 64kms. We are looking for solos, pairs, or teams of 6 participants to take up the challenge.
We want to submit your individual or team name, those of your team members and for a small participation fee, you can be part of history repeating!
The website and registration system are now live!
Source: Regional Council of Goyder Media Release, 31st July 2023.