Motorbike Travel-log Writer & Mates Enjoy Eudunda Entrance Gustav & His Dog Icons
Spotted parked on the roadside at the Eudunda Area School were three very nice motorcycles with riders dressed for highway travel.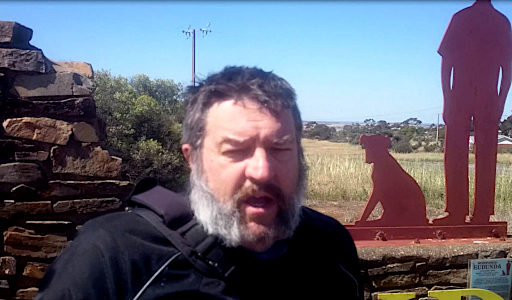 When chatting with them it was discovered that they were touring around on motorcycles as freelancers for travel magazines scoping out stories, and importantly, 'enjoying the ride'. Ride leader, Roderick Eime and his friends were doing this trip for the 'Australian Road Rider – The Real Ride' magazine and had just come from Clare and stopped at Eudunda for a quick look around. They really loved the ride from Clare, with the Curio highway being a road bike riders open road dream ride.
Roderick was on his Harley Davidson Road King, Dave on a Triumph Bonneville and Nick Riding a more modern 'V-Twin' Honda, and Eudunda was to be a quick stop-over on thier way to the Barossa Valley.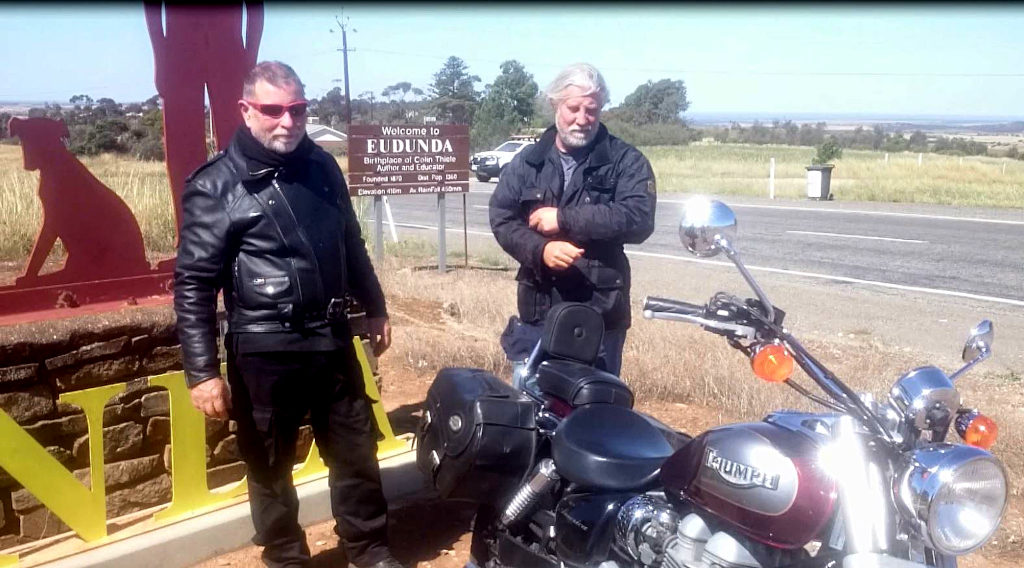 The riders were fascinated with the story of the Eudunda town entrances of Gustav & His Dog, which the community adopted from Colin Thiele's stories about our district, so much so they were heading there to take some photos.
Southern Goyder News Editor Peter Herriman (me) naturally tagged along to get a photo to share with our community in the newsletter.
Our first attempt at the Morgan Road entrance was not so good, as the photos were into the sun, so the riders decided it was worth backtracking to the Kapunda Road entrance (Thiele Highway) where the sun would be better positioned and the result is in the photo above.
While taking the photos the riders were very attentive in hearing about Eudunda and all the exciting things that are happening around it. They were pleased to know it is one of the towns that run the famous 24 Hour Reliability Trial, and to hear about the walking and cycling trails and also the future Silo Art.
We look forward to Eudunda getting a kind mention in a future edition of the Road Rider Magazine as we wish Rod and his mates many safe and enjoyable rides.