Lions Making A Difference
Have you ever wondered where the money you paid for a Lions sausage goes? Many clubs across Australia donate funds to Australian Lions Hearing Dogs (ALHD) for the training of Hearing Assistance Dogs.
For over 40 years, ALHD has been providing deaf or hard of hearing Australians a set of 'furry ears' free of charge. ALHD has now delivered a professionally trained Hearing Assistance Dog to over 650 Australians. This not-for-profit organisation is based right here at Verdun in the Adelaide Hills, but it provides dogs to recipients all over Australia.
Did you know that one in six Australians suffer from some form of hearing loss, and that this number continues to rise? Currently, more than 400,000 Australians are suffering from severe or profound hearing loss. Factors impacting these difficulties include our aging population, birth defects and noise or occupation induced hearing loss.
Hearing loss hurts more than just the individuals inflicted. It flows onto their friends and families. This is where Australian Lions Hearing Dogs makes a real difference. The use of hearing aid devices and Hearing Assistance Dogs are providing significant quality of life improvements, in particular:
Improved interpersonal relationships
Improved mental and physical health
Extended social activity and community interaction
Reduction in discrimination against the person with the hearing loss
Reduction in anger and frustration
Greater earning power and opportunities for employment (especially for those with severe hearing loss)
A lower incidence of depression
Improved safety and security
At Verdun, the dogs undergo intensive training to alert their owner to at least ten common household sounds, including phone rings, smoke alarms, doorbell rings, baby cries, alarm clocks and oven timers. Public access training also occurs. This involves teaching the dog to assist its' owner to access public spaces safely and confidently.
When dogs are placed with recipients, members of the sponsoring club spend up to three months assessing the dog in the home setting. Some Lions members even board newly born puppies for up to ten months, until they are ready to go into the intensive training program.
Interesting Facts:
It takes 6 – 8 months to train a dog.

All dogs are delivered free of charge to the recipients.

Each dog costs ALHD up to $40,000 to train.

In 2021 – 22, Lions clubs across Australia have so far donated almost $280,000 to the ALHD program.
Meet Adrienne and Merlin
Adrienne lives in North-Eastern Adelaide. Her local Lions club sponsored Merlin's placement in 2020. Club members spent three months assessing and assisting Adrienne and Merlin in their adjustment to life at home. As a result, Adrienne now lives independently with much greater confidence and safety. Last year she even joined the club which sponsored her, and she enjoys her active service to the community as a Lion.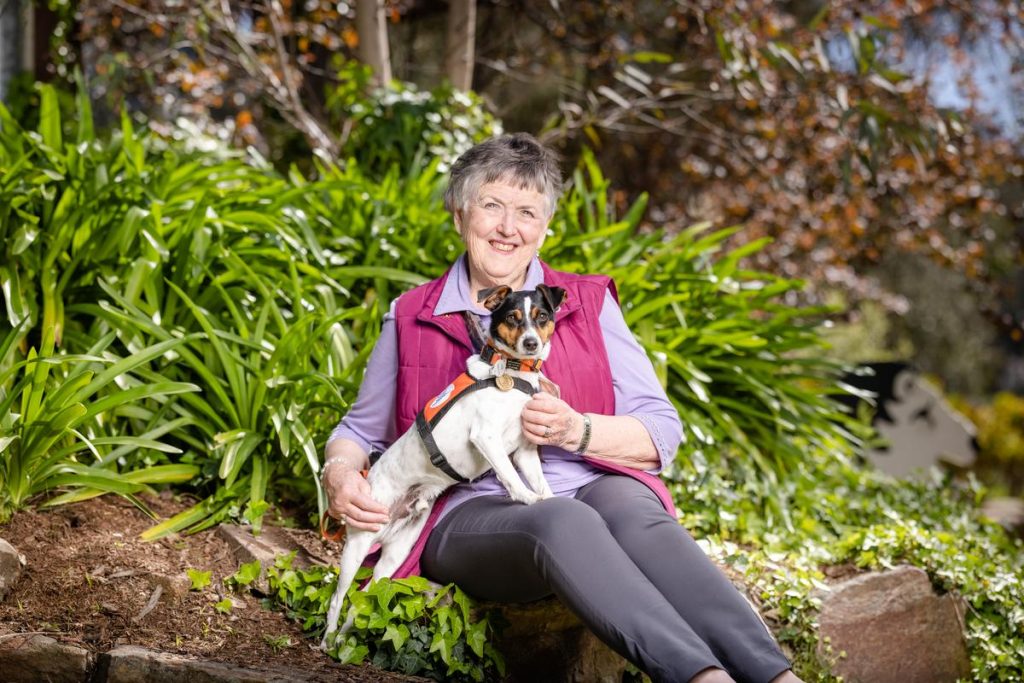 If you are inspired to join a Lions Club nearby or perhaps consider asking about starting a local club, please contact Annette Slater, Lions District 201 C1, GMA Team Leader on 0407 189 075.