Last Minute Shopping Music Tickets To 'The Barn at Wombat Flat' Come To The Rescue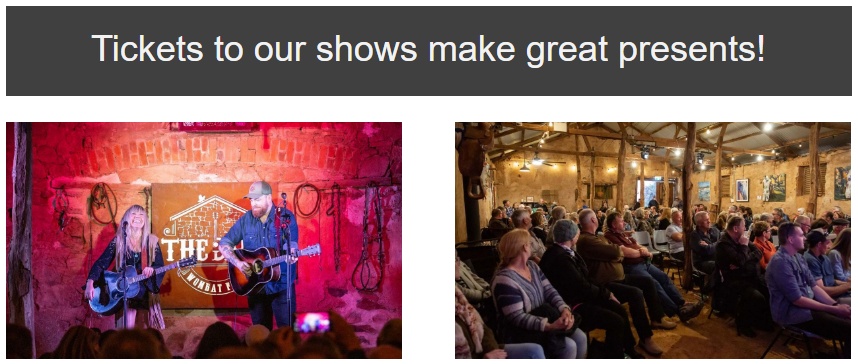 In a panic? Don't know what to give someone for a Christmas Present? Think you are running too late to get something?
Think again! The Barn at Wombat Flat have just booked thier 2021 Season, and a really cool present would be to give a ticket to your loved one to a show they would like.
The beauty about this present is that it is somethings special, unique and you can choose the show.
You will also be supporting a local business, who has been supporting the area by bringing in top quality acts and yet keeping the price of tickets down, and buying them online you will be able to deliver the tickets 'on time' for Christmas. Now that is smart thinking.
What a great choice of artists are booked for 2021: with names like: Kings and Associates plus special guest Jimmybay, The Cherry Pickers plus special guest TBA, Axe and the Ivory plus special guest TBA, 500 Miles of Music 2021, Kevin Bennett and the Flood plus special guest TBA, Luke O'Shea and Lyn Bowtell, Michael Waugh and special guest Camille Trail, Hussy Hicks return!
Discover all the events on the Wombat Flat website where you can see bio's on the artists, and even YouTube videos and importantly book for thier act at 'The Barn'
You can find YouTube video links of 'Kings and Associates" and "Jimmybay" on the Wombat Flat website. They will be playing live at 'The Barn' on March 20, 2021.
To book this night go to 'The Barn' website
The Barn at Wombat Flat is a Proud ECBAT Business Member