Heritage Gallery Receives Grant To Document & Digitise Our Collection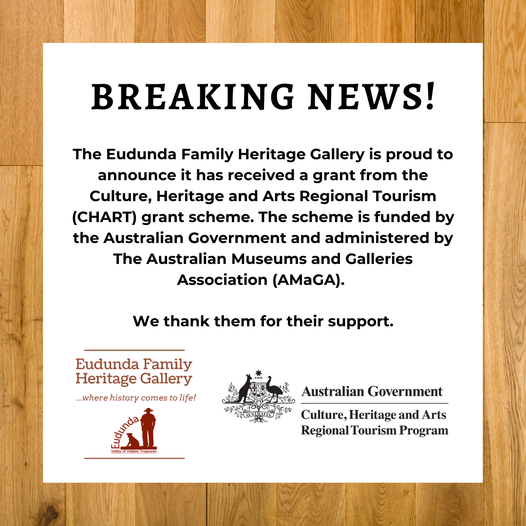 The Eudunda Family Heritage Gallery is proud to announce it has received a grant from the Culture, Heritage and Arts Regional Tourism (CHART) grant scheme.
The scheme is funded by the Australian Government and administered by The Australian Museums and Galleries Association (AMaGA).
The grant, valued at just under $3,000, will assist the Gallery in a variety of ways. The grant comes at a time when the Gallery is recovering from the effects of COVID-19 and recent water damage.
The Gallery will be able to purchase a number of scanners with different capabilities, as well as a LED Lighting Box which will enable the Gallery to begin documenting and digitising the collection to make it more accessible. It is our aim to digitise our entire photographic collection, to ensure these valuable insights into our past can continue telling stories into the future.
Another item that the Gallery will now be able to acquire is a Zoom Handy Recorder, which will enable the recording of oral histories. It has been commented repeatedly that too many oral stories, not recorded elsewhere, are being lost. The Gallery will finally have the means to preserve valuable oral stories.
Another major component of the grant allows for the acquisition of archival-quality storage boxes in a number of sizes. The boxes prevent the deterioration of historic objects and artefacts – from irreplaceable photos and handwritten German minute books, to commemorative glasses and empty chemist bottles.
The CHART grant will allow us to continue to safeguard our collection. The Gallery sustained serious water damage in September 2021 and March 2022, with water infiltrating every part of the premises in the March flood. This has forced us to reconsider how we display and store our large collection. Artefacts situated close to the floor or near areas of the ceiling that have been compromised can now be shifted to safer storage. We cannot risk losing artefacts from our collection.
The Gallery would like to sincerely thank The Australian Museums and Galleries Association and the Australian Government for their generous support; their assistance allows us to continue the important work of preserving, sharing, and recording stories from Eudunda and surrounding districts.
We look forward to sharing more news about the outcome of the grant in the coming weeks.
Find other news items on the Eudunda Family Heritage Gallery Website