Heritage Gallery Launch Online Book Sales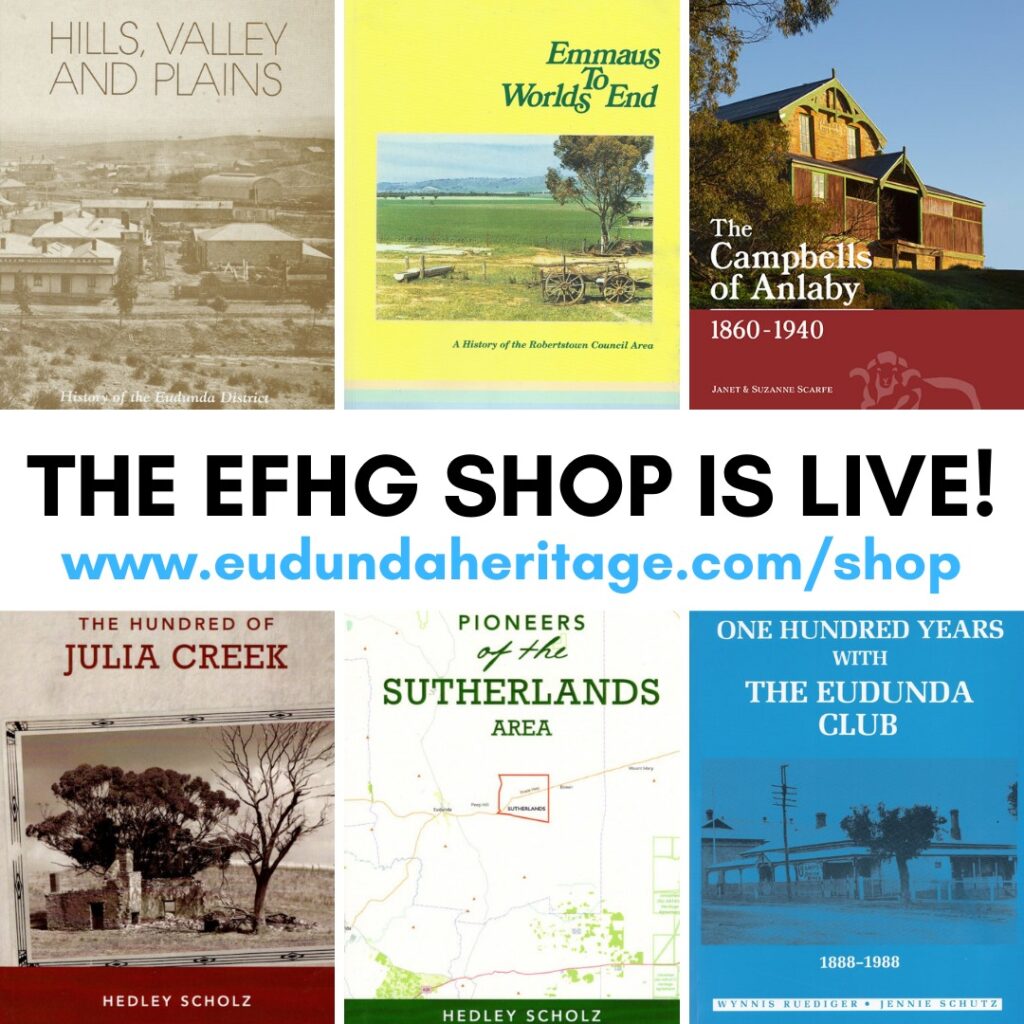 The Eudunda Family Heritage Gallery (EFHG) had been planning for quite some time to sell some of the books they have online.
Chairperson of the Gallery, Peter Herriman explained that he and Gallery volunteer Samuel Doering who is currently in London, having successfully completed his undergraduate studies at the New College of the Humanities, had been collaborating online to establish the online sale of books. Peter explained,
"The Gallery has been going for approximately 24 years, and has had a 'web presence' quite early on, since the days of the Southern Goyder Telecommunications Network (SGTN) in 1999 to 2000. They took on thier own web identity about 2001, and it remains an active website, sharing news about the Gallery.
"Adding the online sales is a significant step for the Gallery. Samuel & I launched the shop part of the website last Thursday Night without much 'fanfair' locally.
"Samuel had done a fantastic amount of work posting regularly, with fantastic research, stories and photos on the Heritage Gallery's Facebook page over the previous year, and built up a great contact network. When Samuel posted the advert (shown above), we were very happy to see that people were keen to find books about our region, and were snapping them up immediately.
"I truly believe it has been Samuel's hard work in promoting the Heritage Gallery in the first place which had allowed his post to be seen by so many through Social Media that saw the immediate response we have had. You can image that Samuel and I were beaming from ear to ear.
"Having the online shop will help 'Future Proof' the Gallery, especially in the current turbulent times of COVID lock-downs where the Gallery cannot be open, at least we can still spread the word about our great district to the rest of the world through our books.
"Some of those who purchased online also receive this newsletter – and we would like to say a big 'Thank You' and that the books will be on thier way real soon."
You too can explore the web shop, it only has 11 book titles at the moment, with more to come and if you are local you can still buy online, any time of the day or night and pick the books up when the Gallery is open without incurring a shipping fee. Please also tell others about this new service.
The Eudunda Family Heritage Gallery is run by volunteers and is open Friday, Saturday and Sunday 10am to 2pm.