Have You Painted Your Bin Yet? Eudunda SALA 2023 – Wheelie Bin Prize – Enteries Due 1st Aug.
Are you aware of the "Wheelie Bin Prize" which is part of this year's Eudunda SALA. Decorate your wheelie bin with the theme "Flowering Impressions". Fill-in the entry form (below) and display on the street outside your place from the 4th to 13th August.

NOTE: Artworks and entry forms to be delivered to one of these venues by Tuesday 1 August 2023 at 3pm.
Country Fabrics 'n' Things / The Hub (Tues 9-12.30) / Goyder Council Tues-Thurs. Info in the entry form (download link below)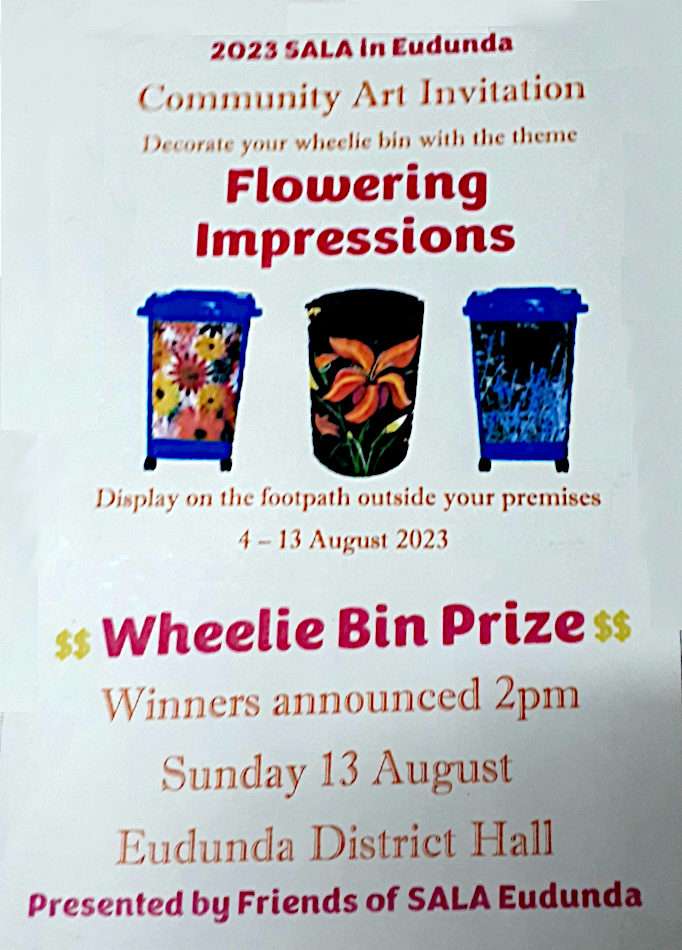 PS. If your bin has an official Regional Council of Goyder Sticker Number on it (used for identification) – please don't paint over it, it is an extra challenge for you.
There Are LOTS OF Other CATEGORIES
PAINTINGS
DRAWINGS
PHOTOGRAPHY
TEXTILES
MOSAIC
SCULPTURES
3D ART
FLORAL ARRANGEMENTS
Be Imaginitive
Banksias, flowering gums, wildflowers, garden flowers
and even canola crops
Be Inspired
Community and guest voting for prizes
$ Peoples choice award & More $
Selected artworks will be for sale by local artists
(please note payment will be made to artists 31/08/23)
Be Included
This is an All Ages event and opportunity
Presented by Friends of Sala Eudunda
Further info – Margaret on 08 8581 1663 or 0458 900 655
or visit Country Fabrics in the Main Street of Eudunda to catch up with Margaret (during business hours) or
Julie Mathews on 0427 749 729 or
Ali Ekermann on 0429 917 227