Hardi 24 Hour Trial Poster Released With Only One Month To Go For Eudunda 7th – 9th July 2023
Starting from Eudunda – South Australia.
The event date for this year is on the
weekend of the 7th to 9th of July 2023.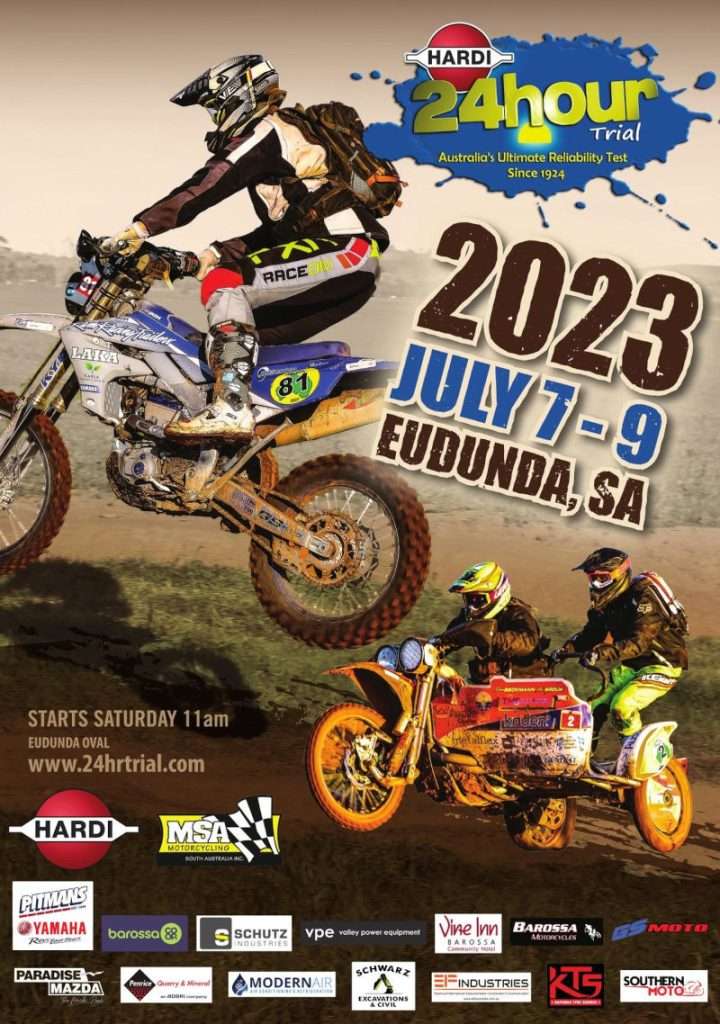 So you may have competed in the Lew Job 2 Day Trail, and the bike and yourself are still in one piece and raring for some more adventure – then the Hardi 24 Hour Reliability Trial is a must for you or maybe this is you main and only event – it's still the one to ride.
The event starts with the first rider leaving from Eudunda at 11:01am and if all went well the first rider will return again at 11:01am exactly 24 hours later.
The course is quite hard on both bike and rider, and there is usually an attrition rate of at least 30% to 50%.
The event could not be run without massive support from many clubs, organisations and individuals. Check out ans support their Sponsors.
As well as the rugged men & women who ride the event, this has been and always will be as much a fun weekend for the spectators, as they watch their favorites from some of the best, most beautiful scenery in South Australia. We do ask spectators and all who attend to respect the land owners property, and to take your rubbish away with you please, to not camp on private property without permission and also to drive or ride carefully on the roads and NOT in any properties. THANK YOU!
If you have any questions – please contact us the 24hr Organising Committee
WE HOPE YOU ENJOY THIS YEARS – HARDI 24 HOUR TRIAL.
The event is free to spectators, and riders should go to the website at
https://24hrtrial.com and to enter as a rider there are costs involved.