Happy 40th Birthday to Eudunda & Robertstown School Community Library
The Eudunda and Robertstown Community Congratulate the Library for thier outstanding achievement of serving our Community and School for 40 years, with the actual birthday being on the 19th September 2020.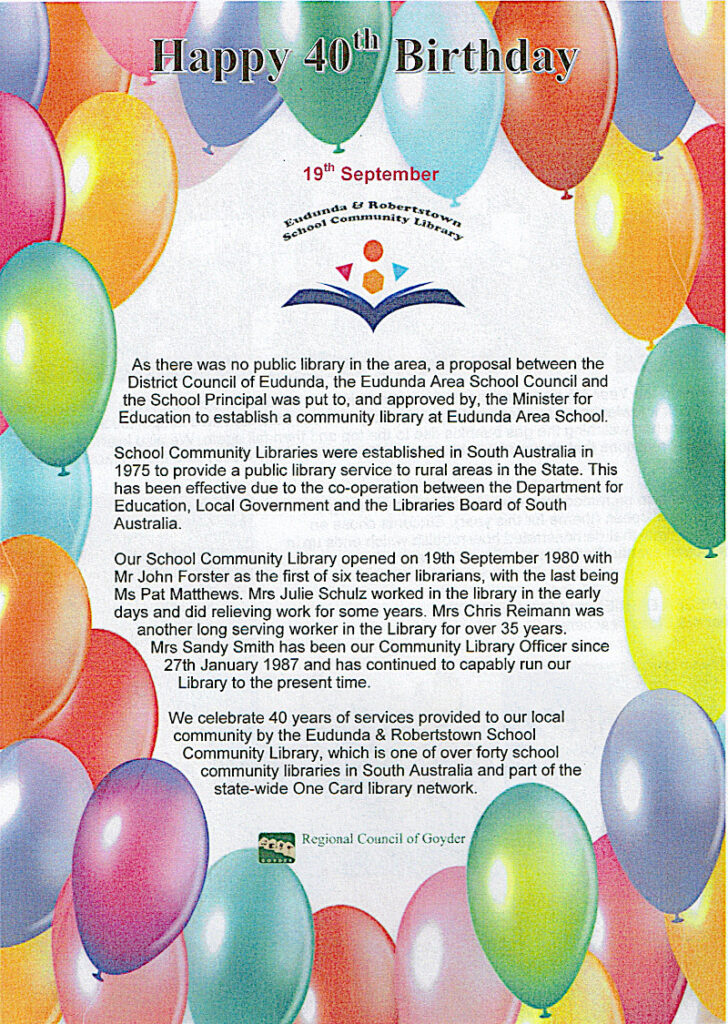 As there was no public library in the area, a proposal between the District Council of Eudunda, the Eudunda Area School Council and School Principal was put to, and approved by, the Minister of Education to establish a community library at Eudunda Area School.
School Community Libraries were established in South Australia in 1975 to provide a public library service to rural areas in the State. This has been effective due to the cooperation between the Department of Education, Local Government and the Libraries Board of South Australia.
Our School Community Library was opened on 19th September 1980 with Mr John Forster as the first of six teacher librarians, with the last being Ms Pat Matthews. Mrs Julie Schulz worked in the library in the early days and did relieving work for some years. Mrs Chris Reimann was another long serving worker in the library for over 35 years. Mrs Sandy Smith has been our Community Library Officer since 27th January 1987 and has continued to capably run our Library to the present time.
We celebrate 40 years of services provided to our local community by the Eudunda and Robertstown School Community Library, which is one of over 40 School Community Libraries in South Australia and part of the statewide One Card library network.