Fantastic Weather For Copyworld Walky 100 Rally At Eudunda Creates Great Results
Organisers Were Very Happy with the Results of the 2021 Copyworld Walky 100 Rally Held At Eudunda on 14th Aug.
The Copyworld Walky 100 – car rally is based out of the Eudunda Oval and traverses the Southern Goyder Region. This year there were new sections to challenge the drivers and navigators.
Promoted and Organised by the Walkerville All Cars Club Inc. the event is Round 3 of the South Australian Rally Championship, and this year was well contested with 36 Cars and teams lining up to have a go. Walking through the pits is awe-inspiring,
With fine weather in Eudunda the teams took off from the Eudunda oval at regular spaced intervals to where they would start thier first challenge section, where they could do thier real test of rally driving.
The organisers and crews of approximately 300 people were treated to some great food and drinks put on by the Committee and Volunteers of the Eudunda Show Committee who appreciated the chance to support this great local event and help fundraiser for thier own event, the Eudunda Show in November.
There was unfortunately no spectator areas this year due to Covid, and it is hoped that next year this will be available again. Time will tell.
Currently there is Provisional Results v2 on the website to follow, and the first three positions are:
First Outright: Jamie Pohlner & Adam Branford – Car 3 P5 Mitsubishi EVO 9 2005
Second Outright: Stuart Bowes & Mark Nelson – Car 50 CL Mercedes Benz 450SLC 5.0L 1975
Third Outright: Rob Hunt & Jeremy Brown – Car 7 P6 Mitsubishi EVO 6 1998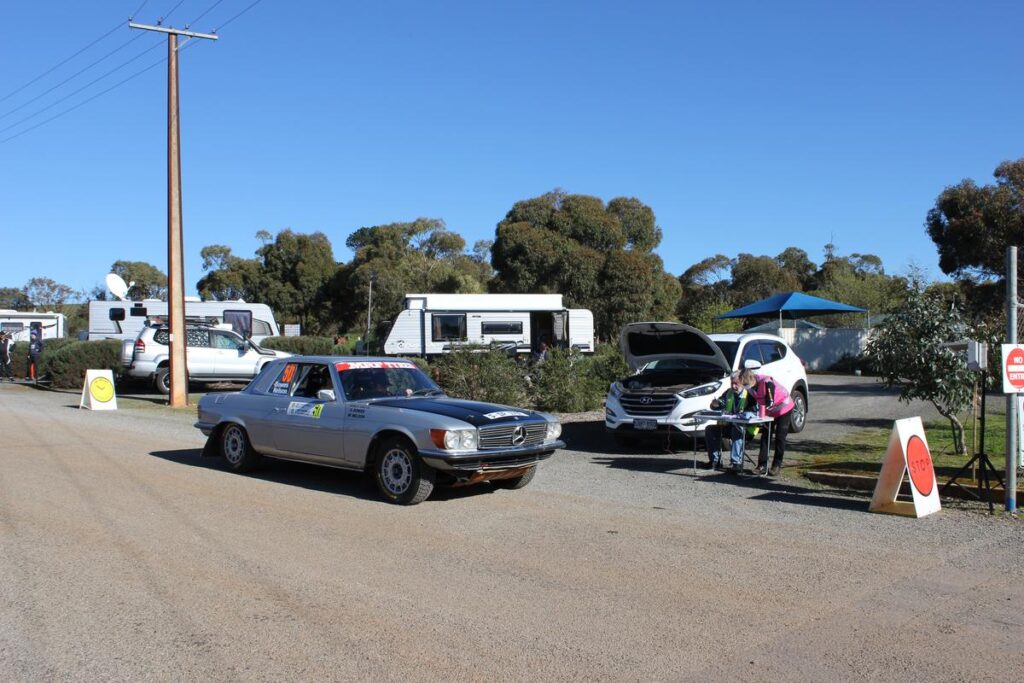 It is interesting to note that the provisional second outright position was taken by the oldest car in the field being a 1975 Mercedes seen in the photo above. Of the field of 36 cars 10 did not finish for various reasons, mostly mechanical.
Keep checking the Walky 100 website and thier Facebook page for final results