Eudunda Ward Currently Doesn't Have Fair Representation At Council – Last Chance to Have A Say!
Goyder Representation Review – YOU HAVE TO BE QUICK!
SUBMISSIONS CLOSE THIS MONDAY JANUARY 11th 2021
The ramifications to our Ward are huge, the Eudunda Ward is currently under represented at Council and this review gives us a chance to have equal representation at Council.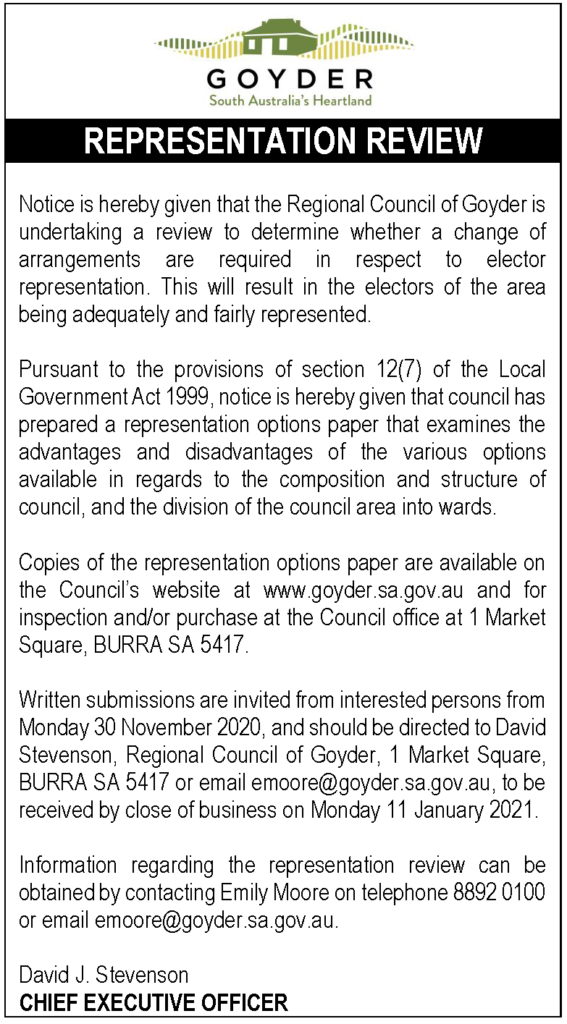 SUBMISSIONS CLOSE JANUARY 11th 2021 – A QUICK RESPONSE IS NEEDED!
If you don't have much time – send a quick email with your thoughts and suggestions to the Regional Council of Goyder , emoore@goyder.sa.gov.au

The actual important document – is linked to here.
Representation Options Paper – ELECTOR REPRESENTATION REVIEW – November 2020
Note that the link may not be available later if the Council website changes. (active at 08/01/21)
A very brief summary:
The council is having a representation review, as the Eudunda Ward has too many electors for the number of  councilors in the Eudunda Ward compared to the other 3 wards.

The process was started when Council passed a resolution back in March 2020 "to commence an elector representation review". In late October 2020 they "considered current arrangements and future options" and presented those to Council on the 17th Nov 2020. After all that time the Council is now rushing through with the review.

There are 4 options  proposed in the document: You should review the whole document
The review document and process timeline has been very unfair to Eudunda Ward Electors because;
The submission timeline most unfairly asks for community submissions at the busiest time in our region – during harvest and Christmas when everyone is busy and with little time to notice.
During the period for submissions both council offices were closed, so there has been no opportunity for 'fact finding'. Eudunda Office will still be closed, only reopening at 9am Tuesday 19th January 2021 well after submissions are closed, which makes submissions difficult for local residents who are not 'tech savvy'.
No thought to gathering local facts were sought as the Eudunda Community Business and Tourism Committee (ECBAT) was not consulted at all. Yet ECBAT was put in place by Council to represent the Local Businesses and Community Groups to Council.
This in itself could be taken as an insult to ECBAT and therefore our local community.
Not consulting locally has caused misinformation in the recommendations being suggesting in the council document. Consulting with ECBAT could have easily corrected this and made it a fairer document.
Please refer to The Latest from Southern Goyder News for 12/11/2020 for the original news about the review and details of what the review got wrong (see part about 7.2.2 Residential Development.)
Comment: What effect could that negative statement have? One thought is that the fourth option of the review is to decide if an extra councilor be elected to even up the representation across all wards. With a statement suggesting that there would be no increase of electors in the foreseeable future – people are less likely to consider that an extra third councilors might be a feasible way to represent the Eudunda Ward. It is an option now that point 7.2.2 has been debunked.
If the community had time to dig deeper what other questions we will be able to ask, and facts we might find to get a better understanding of the issues.
The document does seem reasonably comprehensive although there are mentions of "Additional Expense" multiple times, without estimates being submitted so it is hard to gather how much some of the options may actually cost.
It had been hoped that Council would see the opportunity to allow more time for the residents, when they meet on the 15th December for thier Council Meeting at1pm at the Burra Council Office. Eudunda electors deserve a fair go.
Sadly the other news item (above)
'Councilors Say 'NO!' To Extending Submission Time on Elector Representation Review' have proved just how things are not working well for our electors at Council.