The Story is Being Told on Eudunda Silos With Art Progressing Well After Weather Delays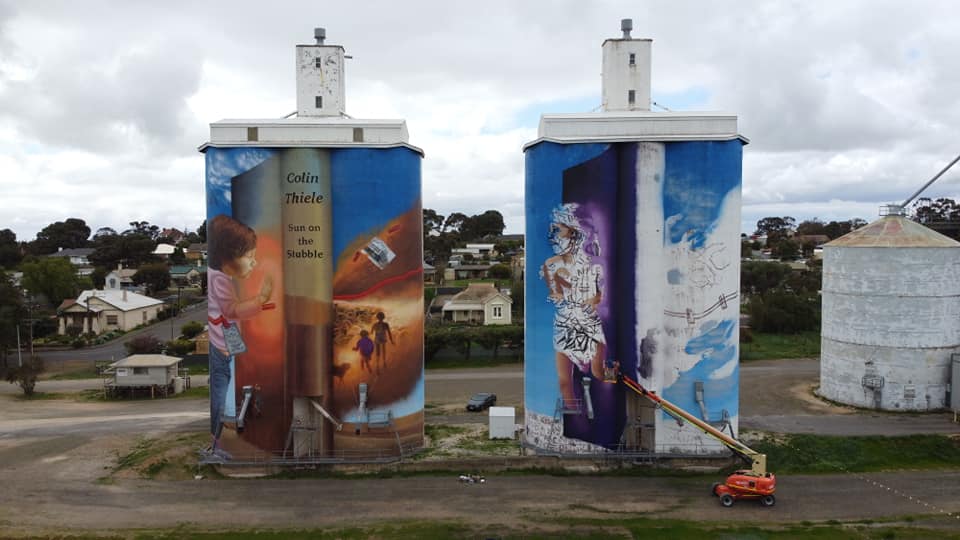 The Eudunda Community, Business and Tourism Committee (ECBAT) Eudunda Silo Art Project is racing to finish on time for the Silos to be handed back to Vittera so they can get ready for the new season.
You are welcome to go and watch the painting unfold. There is plenty of room to park either off Railway Parade, in the new car park, which was developed especially for visitors to see the silo art, and you can also park over at the Eudunda Gardens
PLEASE DO NOT ATTEMPT TO DRIVE IN TO THE RAILWAY AREA
Silo Artist Sam Brooks has been able to make good progress now that the Spring weather has been favourable.
The silo art became possible when Eudunda through ECBAT received a Tackling Tough Times Grants to paint the Silo's, and further funding has been obtained from the Regional Council of Goyder to construct infrastructure such as parking area. paths leading to the artwork, an elevated viewing area which will eventually be lawned and further landscaping.
Keep an eye on the Eudunda Silo Art Facebook page for photo updates.
Want to know more about Eudunda's Management Committee – see ECBAT website