Eudunda Main Street – A Busy Sunday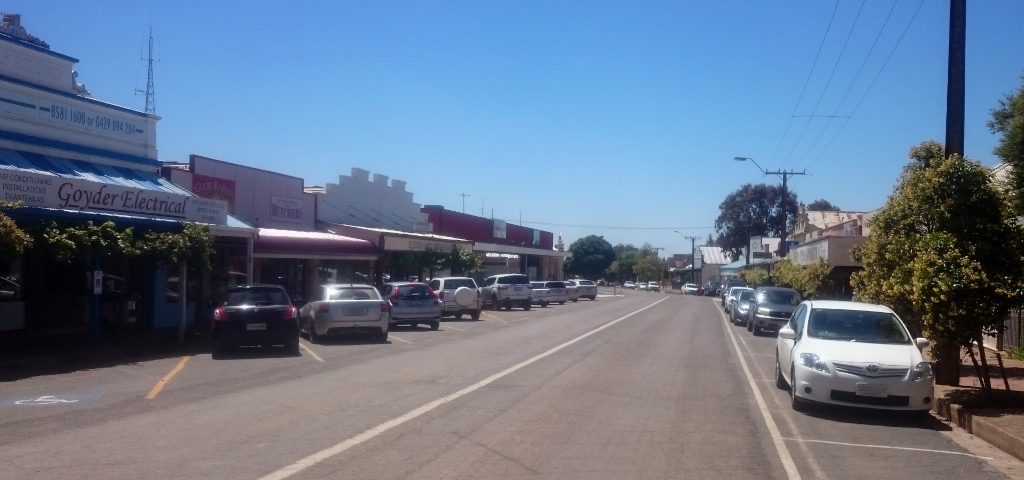 Once upon a time a Sunday would see an empty main street, but things have changed. It was good to see Bruce Street, busy last Sunday. Of course now we have lost a few parks due to the new angle parking, there were even more cars around the corner. The street certainly was busy.
Eudunda is lucky to have some shops open on the weekend, with Foodland and the Eudunda Bakery being busy.
Another new business open was the "World's End Curio's" located at the old Eudunda Hardware 'Centenary Buildings', and you will find it full of Curio's and Collectables, a Mancave and Car Stuff, Retro stuff. They are open Saturdays and Sundays 11am to 5pm and also Public Holidays 11am to 5pm.
Also open was the Eudunda Family Heritage Gallery, where Committee Members, and Volunteers Yvonne Rohde and Jennie Schutz were working. They were happy to be able to greet members of the Eckermann Family and also Andrew Morphett and Peter Hayward of Anlaby, who dropped in for a look around.
The Heritage Gallery has had to change its opening time recently, after several volunteers have retired due to ill health. The new times are: Friday: 12 Noon-3pm, Saturday: 12 Noon-3pm, Sunday: 12 Noon-3pm.
If you would like to volunteer at the Eudunda Family Heritage Gallery or to find out more give Peter a call on 0429 811 958 or contact the Gallery through the website.
At the start of Bruce Street the Light Hotel was also keeping busy, as was the Eudunda Gardens where people relaxed, admiring the Colin Thiele & Mr Percival sculpture along with the flowers and the many transport tiled stories on the walls. Further down the road was the Eudunda Hotel/Motel on the corner of the Thiele Highway and Gunn Street welcoming people to the town.