Eudunda Celebrates Souvenir Article in Plains Producer – Pick one Up Quick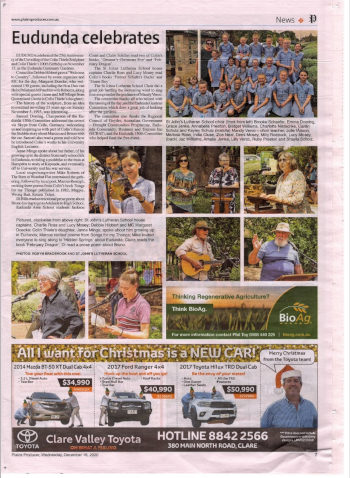 For those who would like to collect a memory or who missed out on the day and just perhaps want to find out what happened then you can't go past buying this weeks Plains Producer Newspaper from the Eudunda Newsagency.
Eudunda 150th Celebrations Secretary Peter Herriman said,
"We were not able to celebrate Eudunda's 150th due to the COVID Pandemic. Part of the large celebrations planned was to celebrate Colin Thiele's 100th Birthday and thanks mainly to Margaret Doecke and Dot Bonner and generous volunteers and sponsors we were able to celebrate both Colin's 100th Birthday and also the 25th Anniversary of the Unveiling of the Colin Thiele Sculpture.
The weather might have been terrible, hot and windy, but that did not stop people coming from afar to celebrate with Colin's Daughter, Janne Minge and her Husband Jeff and the Eudunda Community, with stories, poetry and songs by valiant performers battling the elements.
If you are interested in a copy of the story, a big thank you to the Plains Producer, for printing it in colour. You had better grab one quick from our local newsagent as they are likely to go quickly.