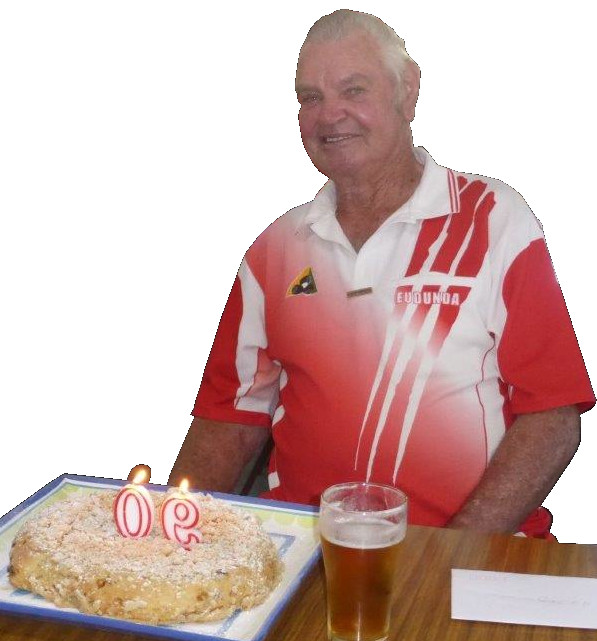 The Night Bowlers experienced an extra noisy night of frivolity. New recruits were a welcome addition to some depleted teams and felt at home immediately, and enjoyed the barefoot bowls so much, they will continue to come each week. They are employees of an electrical company contracted for the Robertstown substation upgrade for the future NSW connector and the solar farm. The Meal Voucher was won by Nick Leditschke, and the bottle of wine Ted Schiller.' Happy Birthday' was sung to GG Schutz ahead of his 90th birthday on Saturday.

The Ladies hosted Nuriootpa and won 59-54. Joy Hams had her third draw in a row, in a cliff-hanger with Pauline Eichner, Judy Milde had a great recovery from 4-19 to finish 17-22 against Carmen Isbel. Pat Obst skippered the team that got Eudunda over the line with a fantastic 23-13 win over Denise Baker.

Thursday afternoon Division 1 played Lyndoch at Lyndoch and went down 63-70. Bill Mader and his team displayed excellent bowling winning 24-19 over Bob Howell, Murray Sauer pulled off a cliff-hanger 22-21 against Harry Sykes, however these were not enough to carry Geoff Schmidt in his battle with Wayne Williams.

Thursday afternoon Division 2 hosted Tanunda Black and were out-bowled 32-95. Ron Hams, Mike Rees and Jeff Willoughby were down to Jeff Garrett, Dave Pech and Peter Hart.

Division 1 played Nuriootpa on our home turf and went down 73-100. Bill Mader had a draw against Jim Barr, being Eudunda's shining light. Frankie Pfitzner conceded two shots to John Carter at the end of the day, Chris Jones was down to Brenton Brown 14-23, and Tait Rogers struck tough opposition in Steve Heintze.

Division 2A lost to Kapunda at Kapunda 61-84. Ron Hams made a brilliant recovery from 0-20 after 9 ends, to finish 23-30 against Jack Trotta, Gordon 'Kiwi' Te.Au's team displayed captivating bowling even though they had a 18-28 result against Bob Booth, and Ruth Scoot stepped into Tony's shoes skippering well against John Dermody.

Division 3 had a great win 62-49 at Kapunda with all teams up. Jeff Willoughby was up 23-18 to Shane Collings, Marg Nietschke 21-16 to Peter Maitland, and Pat Obst continued her winning streak 18-15 against Tony Robinson.

Team of the Week was the Women's Pennant team comprising Pat Obst, Liz Mosey, Marg Nietschke and Carolyn Doering.
The Club Draw was won by Colin Menz, who was not present so the draw jackpots for next week.

After the game on Saturday, GG blew out the '90' candles on his birthday 'Deutscher Kuchen' cake and all sang 'Happy Birthday' to celebrate his birthday on the day.

Toucha