Eudunda Bowls News 24th October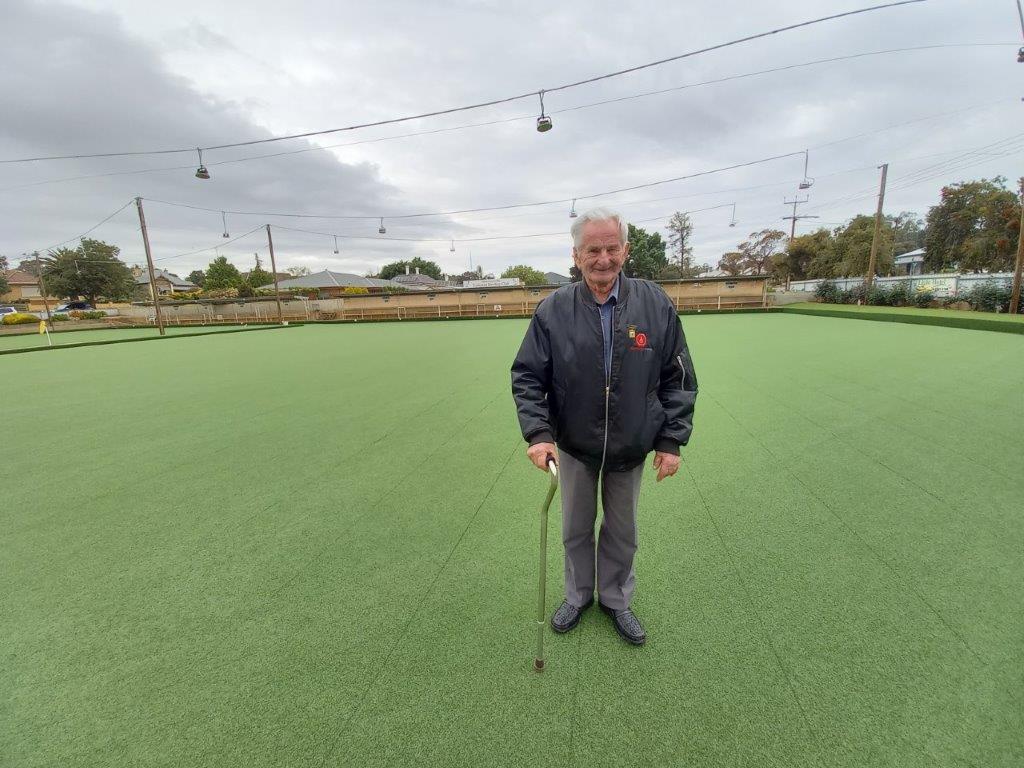 Action is happening on the new synthetic grass greens. Eudunda hosted two pre-season matches with large contingents of bowlers coming from Freeling on Saturday 10th September and Lyndoch on Saturday 8th October. The annual Dick Prior Memorial Singles took place on Sunday 18th September where great bowling was displayed. The Memorial shield was presented by Greg Prior to winner Chucka Schutz.
On Monday 3rd October, the season was opened jointly by Patron Bob Leditschke and Patroness Betty Marshall and was supported well by club members.
Last Thursday the Ladies hosted all clubs of the Barossa & Light Association in the first Mid-week Pennant match. 96 bowlers were on the greens, and it was a spectacularly colourful event. Eudunda President Judy Milde welcomed all bowlers and wished all good bowling for the season. Carolyn Doering came back from NSW and played on the day! Eudunda ladies had a great win against Lyndoch, and Eudunda are pleased to welcome new pennant bowler Coral Schutz who played well in Leader position. After the match, club selectors put forward names of ladies available to play in the Inter-Association match at Clare on Tuesday 8th November.
Saturday saw Eudunda Division 1 play Freeling at home, securing a decisive win 100-75. Former bowler, 98 year old Gordon Schutz is a strong supporter of Eudunda Bowling Club, following every bowl with his binoculars! In particular he watches his son Mally and grandson Chucka. Eudunda players are pleased to welcome back the Jones boys into the fold, which is a boost to the depth of the side. Our bowlers who travelled to Angaston were not as successful.
Last Saturday evening, an unprecedented rain event flooded the green which was still awash Sunday morning, and as a consequence, the Fun Day tournament scheduled for Sunday was postponed till a later date. Fortunately, the floodwaters drained off the greens quickly, thanks to the drainage system that was installed in conjunction with the new synthetic greens project.
Next Tuesday 1st November, the Night Bowls series begins. Please note the change to Tuesday night and arrive at 7pm for a 7.30pm start. Night Bowls is a great way to be introduced to the game of bowls. The teams are Triples and please make the new bowlers feel welcome, and its all about relaxing and having fun. Contact Rhonda Horne or Jeff Willoughby for any information.
The official opening of the new synthetic greens will be on Friday 25th November at 2pm and all club members are encouraged to attend in uniform, together with invited executives from Barossa Bowling Clubs, BowlsSA and community. Come and celebrate our new greens and surrounding landscaping as a facility to be proud of.
Toucha