Emergency Services Keeping Eudunda & SA Safe
A Massive Shout Out to all our Wonderful Emergency Services for the great work they had been doing in December 2022 across the state of SA.
Locally we had the Eudunda fire on the 26th December, the day after Christmas. The fire which started appoximately 3pm was reportedly caused by dry lightening associated with the small high intensity thunderstorm (shown in the Bureau of Meteorology (BOM) image below left.
Local and surrounding units were in attendance and were supported by aircraft who made three drops. The call for "Threat reduced" was issued at 5:20pm.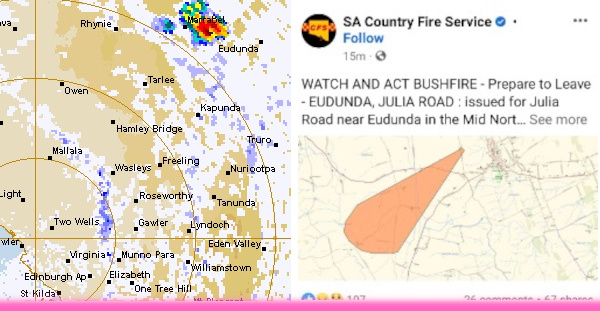 The picture above comes from the SA Country Fire Service Faceook page posted on 30th December 2022 as part of a report featuring the fact that the service had responded to over 35 grass fires since Christmas.
"Volunteers and staff across the state have been very busy this festive season, responding to over 35 grass fires since Christmas:
More than 3,915 hectares burned
Saves include 9 houses, 33 sheds/buildings, 55 farm equipment, 1 shipping container and countless unreaped crops
Over 315 CFS, DEW, MFS, Forest Industry firefighters and specialist Incident Management personnel
Approx. 94 trucks, 26 aircraft (210,000 L dropped) and 75 Farm Fire Units
"There were also 3 major structures fires and a quarry fire, with over 50 trucks and 200 firefighters attending these fires.
"A massive thank you to everyone who helped with firefighting efforts to protect South Australian communities."
The community of Eudunda thank and wish all our emergency workers – please take care and hope that you have a quiet 2023.