Carer's Coffee Group & MY AGED CARE – CARE FINDER INFO SESSION at Kooky's Kafe – 18th May 2023
I am delighted to have obtained the attendance of Amanda from Country and Outback Health at our
Coffee Group is on THURSDAY May 18th,
@ KOOKY's KAFE @ 10:00 am
Lee explained a bit more,
"Care Finders provide intensive, short-term support to help clients understand and access aged care and other community supports.
"Care Finders support clients to interact with My Aged Care – guide clients through the eligibility and assessment process, attending appointments with them where needed and checking in with them periodically to make sure that the services they are receiving are meeting their needs.
"The service is for people who face significant barriers to accessing aged care services and are over 65 years of age or are Aboriginal or Torres Strait Islander and over 50.
"For people who are on a low income, homeless or at risk of homelessness, Care Finders can assist if you are over 50 or over 40 for Aboriginal and Torres Strait Islander people.
"Significant barriers to engagement with aged care services may include, but is not limited to, no support person, limited literacy, difficulty processing information, reluctance to engage with the government due to negative past experiences.
PLEASE REGISTER ATTENDANCE by Wednesday 17th May : 0455 445 524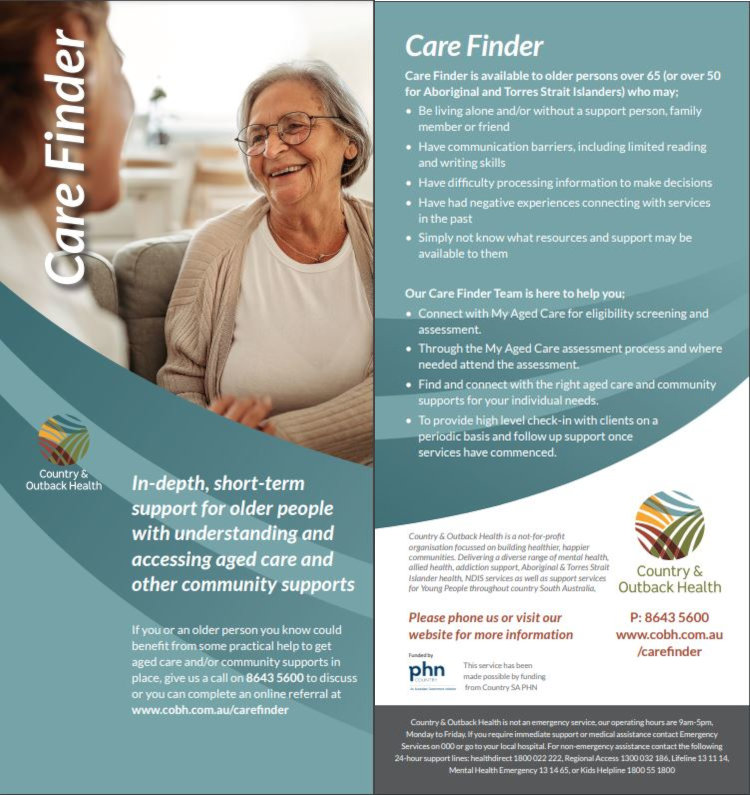 Coffee Group is on THIRD THURSDAY of Every Month
Lee Looks Forward to seeing you all there.
"Come along and Join Us if You are a Carer
OR Think you Might Know someone who is ?"
Carer's need support too
and Carers SA Australia & Carers Gateway
is there to support our Carers.
Are you caring for a family member or friend?
Want to find out more: Carer Gateway online
Carers SA – Carers Association of South Australia
or Contact Lee Carer Connector, Carers SA: 0455 445 524
Lee Wingate 0455 445 524 Email: Click for Website.