Brett Warner Memorial Fours a tribute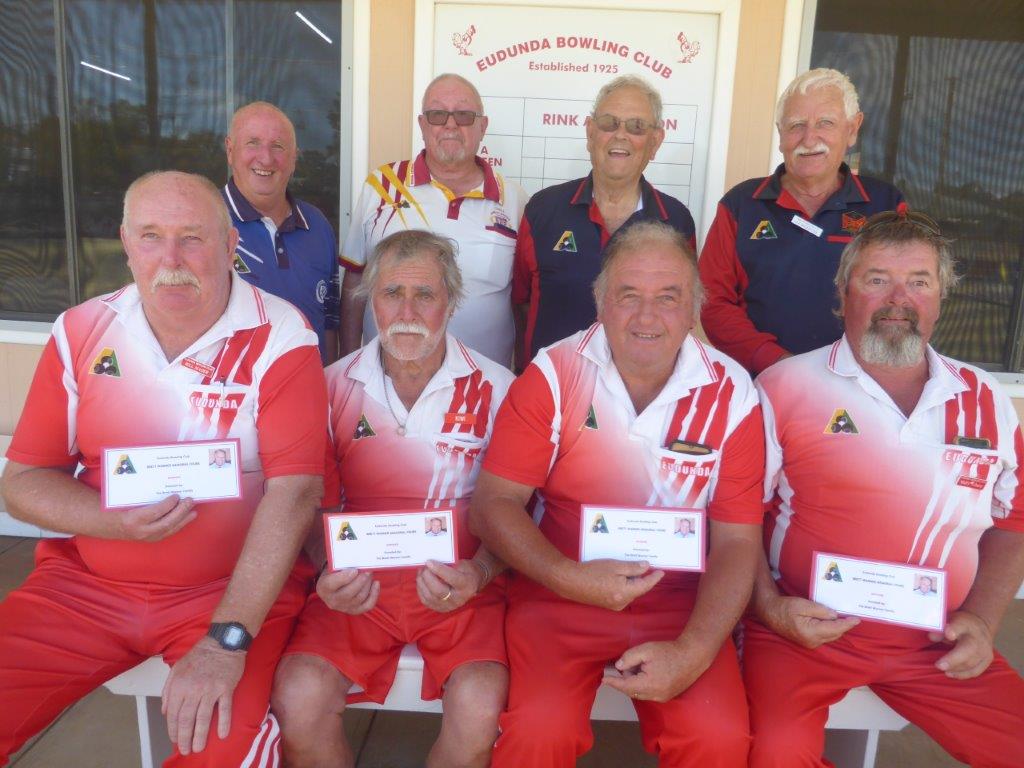 Last Tuesday's Brett Warner Memorial Fours was a tribute to an outstanding club man and champion bowler. The twenty teams that attended is testament to the late Brett's popularity and high regard shown by bowlers all around the region. Brett passed away just twelve months ago in February 2020. This tournament honouring Brett will continue to be an annual event.
President Ted Schiller welcomed the bowlers from an area spanning Peterborough, Barmera, Barossa, Naracoorte to metropolitan Brighton. He then read a tribute to Brett Warner of the achievements of this passionate bowler who loved Eudunda Bowling Club.
Tournament Director Ron Milde thanked the valued sponsors for their continuing support, and especially the Brett Warner family for their generous contribution for the day.
Eudunda's biggest and ugliest spider adorned the green for the 'spider', which was won by Chris Castine of Naracoorte.
Patron Bob Leditschke drew the raffle for the many prizes donated by sponsors and members.
As Tournament Director Ron announced the winners, Patron Bob presented the prizes to the winning teams. The first- round winners were the Brighton fours Trevor Clark, Stoop, Graham Mac, and Rob Thiele. Second round winners were Auburn pairs Lyn and Peter Ruff, third round winners were Tanunda pairs Tony Edwards and Murray Menzel, and fourth round winners were Barmera's fours Peter Boase, Ian Lloyde, Peter Enky and Alan Stagg
Runners-up overall were Freeling's Ian McFarlane, Lyal Ryan, Trevor Secomb and Jim Bryson. In accepting their prizemoney on behalf of the Freeling team, Ian McFarlane remarked "Brett is looking down on us today and would have been proud"
Winners of the tournament were Eudunda's Gordon 'Kiwi' Te.Au, Geoff Schmidt, Bill Mader and Mally Schutz. Bill Mader responded suitably to receiving the prize money from the Brett Warner family "it is an honour to win on this Memorial Day"
Ron Milde thanked all concerned in making it as a successful day including the greenkeeper Mally, the barbeques chefs Des Twartz and Neil Purdam, the ladies in the kitchen, Mike being a very busy boy behind the bar, and Pam and Joy co-ordinating the raffle.
Helen Warner and family are humbled and thank the Eudunda Bowling Club for this tribute given to Brett
Toucha