Amber Joy Poulton, plus Michaela Jenke & Reid Sampson Plus Emerging Artist Gemma Louise – 5th June 2021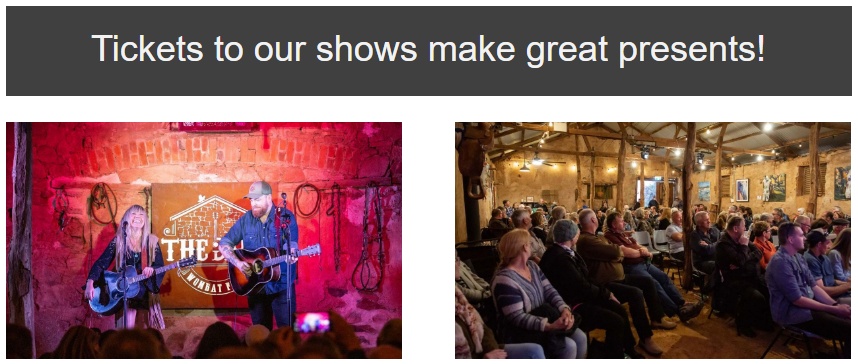 Tickets To 'The Barn at Wombat Flat' would make a wonderful and unique present for Mum on Mother's Day.
The Barn at Wombat Flat have some fantastic acts booked for thier 2021 Season, and a really cool present would be to give a ticket to your Mum. The beauty about this present is that it is somethings special, unique and you can choose the show.
Discover all the events on the Wombat Flat website where you can see bio's on the artists, and even YouTube videos and importantly book for thier act at 'The Barn'.
The events are booking out fast! The next one with tickets available is:
Amber Joy Poulton, plus Michaela Jenke and Reid Sampson Plus Emerging Artist Scholarship Winner Gemma Louise – The Barn at Wombat Flat 5th June 2021
To book this night go to 'The Barn' website'
The Barn at Wombat Flat is a Proud ECBAT Business Member